When you as a customer purchase the genuine Kverneland Group Spare Parts, you can be sure you get the very best quality available. The genuine spare parts from the Kverneland Group have the same high standard as the implements/machines when it comes to: quality, security and wearing time.
The parts are designed to work optimal together with our implements/machines and it is only these GENUINE parts which can guarantee the optimal match and durability. Thanks to our wide and effective dealer network with stock of spare parts close to your place, we can offer you an optimal spare part supply.
Have a look at our offer on No 28 bodies conversion kit to bring your No 8 bodies up to the new standard in Kverneland ploughs.
Visit our parts stand and get your voucher for MConnel F14 flails – 2 free with every full set of F14's
Special pricing on complete knock on point kits- a truly universal design, Knock-on brings a lot of benefits to end users. It is incredibly simple to use and it can be used for ploughs and cultivators, which simplifies parts management for end users of Kverneland cultivation equipment.
The thickness of the point has been carefully engineered to avoid adding extra weight to the plough, while maintaining hardness and durability. A further advantage is the point's design is no longer handed – it can be used on left or right-hand plough bodies without fear of incorrect fitting.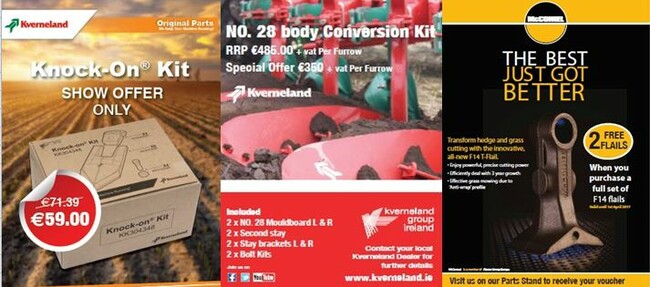 Valid February 2017