iM Farming combines and presents Kverneland Group's competitive advantages of the ISOBUS machine offering in combination with all electronic solutions
ISOBUS
The first step is investing in a machine with ISOBUS technology which will prepare you for the future and depending on your requirements and budget, will allow you to further invest in convenience and greater accuracy.

SMART - Standardisation of the control settings, cables ,connectors with better overview in the cab
EFFICIENT - Cost savings - using several ISOBUS implements steered by just one ISOBUS terminal
EASY - Easy handling due to simple connection between tractors and implements. Plug & Play for all ISOBUS certified systems
CONTROL SOLUTIONS
The next step involves solutions whereby the ISOBUS machine is combined with a Kverneland Group IsoMatch Tellus or Tellus GO or an ISOBUS tractor terminal.
The introduction of ISOBUS has also led to a strong development in Universal Terminals, so that you are able to couple more machines to one terminal. The latest Virtual Terminal, developed by Kverneland Group, is the IsoMatch Tellus & Tellus Go. Using ISOBUS as the interface, the IsoMatch Tellus or Tellus Go can communicate with all machines and is also equipped to drive with GPS systems.
SMART - Conforms to ISO 11783
EFFICIENT - Two ISOBUS interfaces in one terminal, all information visible at a glance.
EASY - Ergonomic design, Firm integrated rubber grip, Easy accessible touch screen.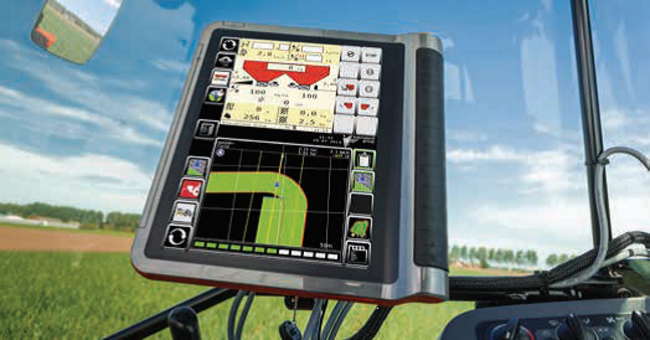 GPS & GEOCONTROL
To complete the picture are solutions whereby the ISOBUS machines are controlled by GPS and GEOCONTROL software using the IsoMatch Tellus or Tellus GO or the tractor terminal. GPS control is all about precision and ease of use.
Coupled with GEOSPREAD or GEOSEED customers can achieve full control over the field during sowing and crop care applications. With GPS it is simple and much more efficient!
IsoMatch GEOCONTROL is an application integrated into the IsoMatch
Tellus & Tellus GO terminal. In combination with a GPS system it provides :
Automatic section control Shut off when driving over previous covered area Shut off at headlands
Switching sections on & off when working in short ground
Variable Rate application automatically adjusts the implement application rate based on input from a field prescription map with Task management and documentation storage and report data per task
SMART - Operator ease - one terminal to do all functions. No manual action required for controlling sections or changing the application rate. Operator can focus on driving in the field.
Operator comfort – reduced fatigue at the end of the day.
EFFICIENT - Cost savings - Opening & closing at the right time reduces overlap which saves fertiliser, spray & seed. Reduced overlap means reduced over and under dosing– optimum nutrient distribution reduces costs and increases yield and profit.
EASY - Easy to operate. Work can continue throughout the night – No need to see start and stop positions.
Finish the job the same day instead of returning next day. It's possible to do headlands during the day and "fill in" the field during the night with the automatic stop/start & section control preventing any overlap.

ISOBUS was the first step towards achieving compatibility and standardisation between tractors and implements.
The uniform ISOBUS language enables standardised communication between the different tractors and machinery.