Kverneland iXdrive 4180
The new self propelled sprayer with a tank volume of 3800 litres. There are two different boom types the HSA (24-30m) and HSS (24-36m) available.
See, Feel and Drive!
The new Kverneland iXdrive 4180 is the medium model of the self propelled sprayer range. With a nominal tank volume of 3800 litres in combination with the HSS steel boom from 24 up to 36 metres or the aluminum boom from 24 up to 30 metres. The iXdrive 4180 is standard equipped with the IsoMatch Tellus terminal, switch box and joystick for easy, simple, fingertip control. 
The advantages:
Ergonomic design and excellent comfort
Easy to control via the Easyset control panel
High tech solutions: iXclean Pro, iXflow, IsoMatch GEOCONTROL and Boom Guide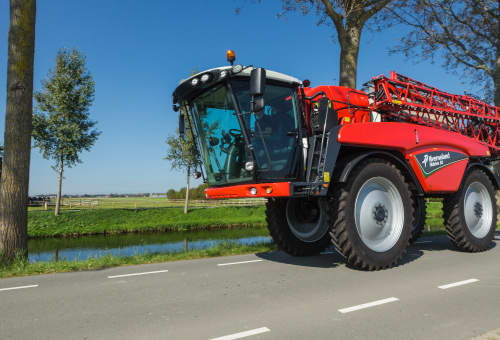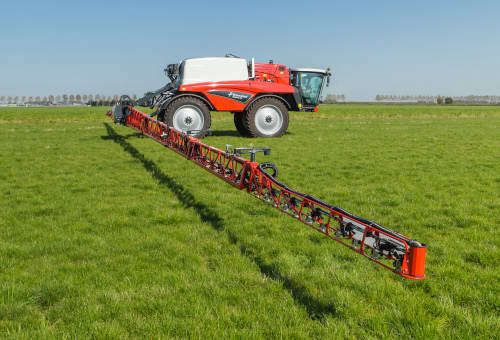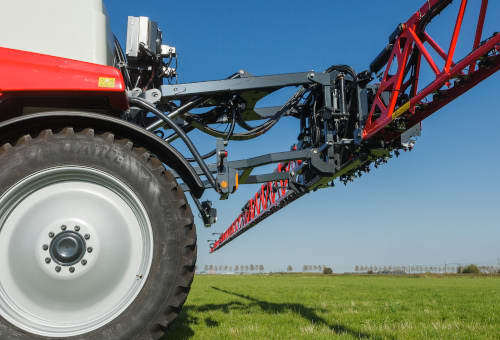 HSS 24-27-28-30-32-33-34-36-38-39-40m Compact Side Folding Steel Booms
The special HSS profile combines a minimum of weight with maximum strength and stability. The HSS boom range is designed for professional use. It's triangular construction provides perfect integration of the stainless steel spray lines, nozzles and nozzle holders and the optimal hose routing where all is well protected. The HSS boom range consists out of a range of two-part folding (24-30m) and three-part folding (32-40m) spray booms. HSS 32-40m 2nd generation boom is designed for higher capacity, higher working speed and higher demands.
HSA 24-27-28-30m High Tech Side Folding Aluminium Booms
The high tech HSA aluminium spray boom efficiently protects the nozzle holders within the bottom profile of the boom. This profile is designed for easy cleaning with no sharp angles or corners for residue and liquid to collect. The anodised surface protects against corrosion and scratches.
iXflow-E
The HSS and HSA spray booms are equipped as standard with iXflow-E. iXflow-E is the high pressure recirculation system with electric nozzle control. There is a free circulation of chemicals with a return of spray liquid back to the tank when spraying stops. This means there is no sedimentation in the spray lines and no dead ends for spraying or cleaning. During spraying each section gets under pressure from both ends of the spray lines, so the operator can immediately start spraying without any pressure drop. It is easy for the operator to program the number and size of sections which fits the best to their requirements and field situations.
Boom Guide Pro
This advanced system uses three ultrasonic sensors to control left- an right-hand boom sections independently for the ultimate guidance in the most challenging field conditions. It can deliver positive and negative lateral movement on each side of the boom to follow the contours in every situation!
Boom Guide ProActive
The system proactively reacts on boom movement and controls both the central and independent slope correction, as well as boom lift functions to guide the boom over the crop canopy, soil surface or a combination of both modes.
Boom Guide 5 Sensor Extension
The Boom Guide 5 sensor extension provides two additional ultrasonic sensors to ensure proper height measurements with booms reduced to 24 metres working width by folding the tip-ends.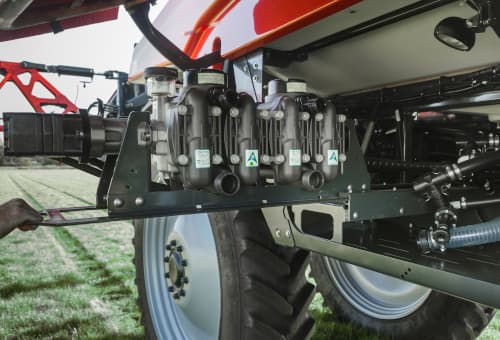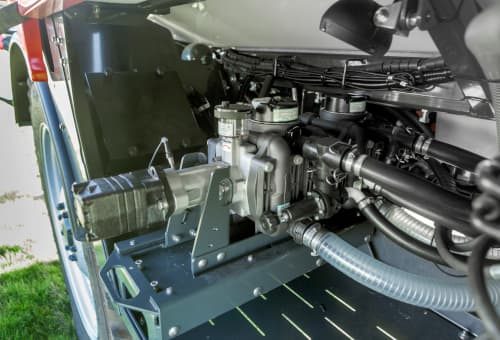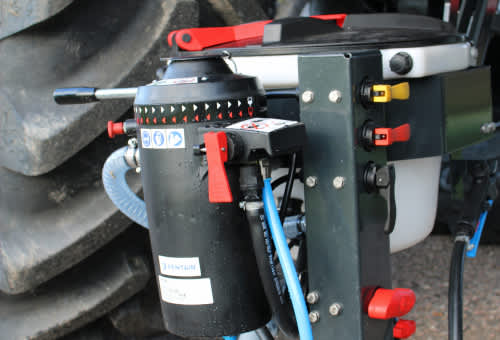 EasySet control panel. 
The EasySet control panel is located between the wheels, at the left hand side of the iXdrive. The panel is redesigned to create a clean and convenient workspace with easy access to all the connections and filters. The control panel is well protected with a bottom cover to keep your operational area free of dirt and chemicals. It is equiped with a Focus3 colour terminal for valve operation and an operating panel for engine and hydraulic functions. The chemical inductor has a new compact design and is hydraulically folding. Furthermore, can be equipped with a Closed Transfer System, which will be obligatory in Europe in short term.
iXclean Pro
The iXdrive is equipped as standard with iXclean Pro our fully automatic electric valve management system. It means all functions can be controlled from the cab or the control panel. Switching between filling, agitation, spraying, diluting, priming, rinsing and tank cleaning is extremely easy: just push the button! iXclean Pro also offers a fully automatic multi-step rinsing and cleaning program again with the push of one button! It just takes a few minutes and residue levels are after automated cleaning below 1%.
Pump with unique service position
The 520l/min piston-membrane pump of the iXdrive is positioned on the right side directly under the main tank resulting in the smallest hose lengths possible. Unique is the service position of the spray pump. The pump is mounted on a rail to be able to easily slid out or to take out completely for maintance purposes.
iXspray
The innovative iXspray spray computer program is operated by the IsoMatch Tellus Pro ISOBUS terminal in combination with IsoMatch Grip joystick. iXspray guarantees an user friendly operation of the sprayer. iXspray is full of nice features to make the operators life easy, save time and avoid mistakes in a busy working season, for example pre-sets for spray jobs and boom configuration can be configured easily.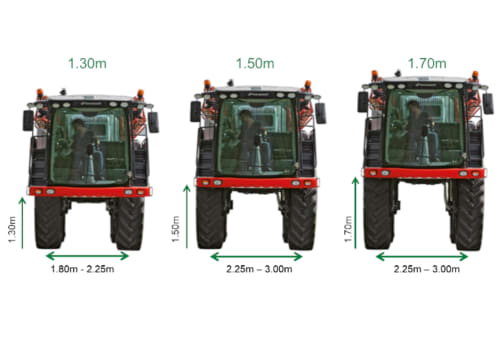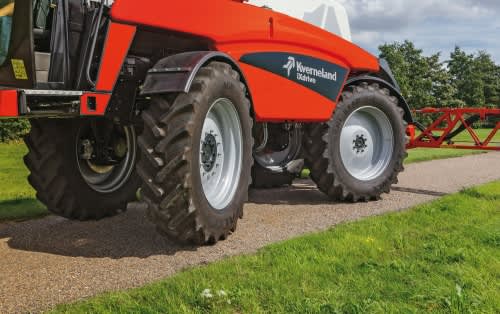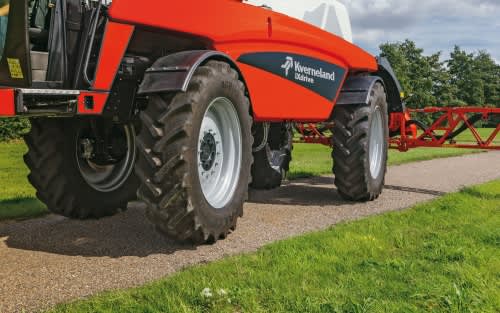 Wheel Axles
The hydro pneumatic suspension on both axles provides operator comfort and boom stability both in transport and field operation. The 3D rear axle suspension allows axle movement, but limits the track influence on the spray boom. The strong chassis with an optimal gravity point brings a perfect 50%-50% weight balance in every situation, without any influence from tank filling or spray boom position. Manoeuvrability is guaranteed with 2-wheel, 4-wheel and crab steering modes as well as ErgoDrive headland control management as standard.
Adjustable Track Width
For optimal protection of the crop the iXdrive S6 is available in three different ground clearances: 1.30m, 1.50m and 1.70m. The trackwidth for the 1.30m clearance frame is 1.80 - 2.25m. Both other clearances come with a track width of 2.25 - 2.95m both offering maximum stability and row spacing in different crops.
Track width adjustment with hydraulic support is standard feature on the iXdrive. Optional is a hydraulic operation from the cab adding more comfort and flexibility.
Technical specifications
Download brochure
| | |
| --- | --- |
| iXdrive | 4180 |
| Nominal tank volume | 3800 (l) |
| Spray booms | HSS 24-36m / HSA 24-30m |
| Ground clearance | 1.20/1.40/1.70m |
| Track width | 1.50-1.80m / 1.50-2.25m / 2.25-2.95m |
| Diesel engine | JCB, 4 cylinder power pack silenced |
| Regulation system | IsoMatch Tellus |
| iXclean Pro, iXflow | Standard |
Find nearest dealer